Also received my 17th Hunger Games cast reply from Dwayne Boyd who is playing Peacekeeper #1!! For those of you who are unfamiliar with the Hunger Games characters, the Peacekeepers are like the police department and their job is to maintain order in the districts and report any news to the Capitol.
Dwayne graciously sent me an 8x10 signed photo & included his character name 'Peacekeeper'! Out of all the Peacekeepers in the film only four have been credited, so his role is easy to spot. Thanks Dwayne!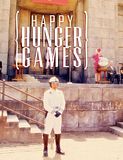 8x10 Signed Photo: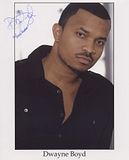 Sent: March 5th 2012
Replied: 19th 2012
Days Taken: 15
Return Address:
Dwayne Boyd
C/o People Store
645 Lambert Drive.
Atlanta, GA 30324
USA
RYAN-J