And the Hunger Games successes keep rolling in! Received my 22nd Cast success today, this time from Actress Sharon Morris who played 'Lucia' the Game Center Tech #2 instructed by Seneca Crane to release the mutts into the arena near the end of the film!!
Sharon graciously personalized and signed all my custom Hunger Games items & added very nice inscriptions along with her character title and name to them as well! She also added the 'odds' quote to the custom card as requested!
I was hoping she'd sign the front of the photos, but I'm perfectly okay with her signing them on the back. She messaged me several days ago saying that she really liked my design for the custom photos, which turned out super awesome if I do say so myself!
She sent along a very nice handwritten and signed letter thanking me for writing and telling me that she's hoping to be in the Hunger Games sequels!
She also told me that in order to receive a reply from her, she prefers that fans send her a SASE & items that they want signed, because it's a photo of their choosing and the turnaround is much faster. Thank you Sharon!
4x6 Photos: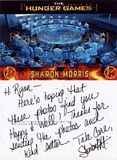 4x6 Custom Card:
Handwritten Letter: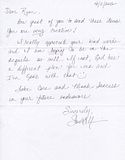 Sent: March 31st 2012
Replied: April 16th 2012
Days Taken: 17
Address Used:
Sharon Morris
C/o J Pervis Talent Agency
659 Auburn Avenue. Suite #123
Atlanta, GA 30312
USA
RYAN-J